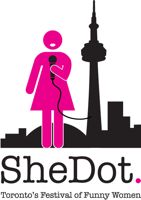 Trish Stratus announced to host SheDot Festival Gala
Gala benefiting The Jo-Anna Downey Fund features WWE Hall of Famer Trish Stratus on May 4 
April 29, 2014, TORONTO – SheDot Festival launches its inaugural festival May 1-4, 2014 as Canada's only festival showcasing all female comedians. The festival is stationed at Comedy Bar (945 Bloor St W). It includes a fundraising gala benefiting The Jo-Anna Downey Fund on May 4 at The Opera House (735 Queen St E). Seven time World Wrestling Entertainment (WWE) champion, fitness icon and philanthropist Trish Stratus has just been announced as the evening's host. 
"It's about time Canada recognizes how funny women are. I'm always looking for great causes to be involved with. I can only imagine what Jo-Anna would've been able to contribute to SheDot so I'm happy to be involved in the comedic community's ongoing support," explains Stratus. 
Downey was recently diagnosed with Lou Gehrig's Disease and has been left without the ability to speak or perform. This fund helps support her. Canadian Comedy Award winner Elvira Kurt, star of ABC's "Super Fun Night" Lauren Ash and Naomi Snieckus of CBC's Mr. D are just a few of the comedians set to perform at the Gala.
The four day festival features more than 75 female comedians and comedy troupes performing in 12 shows leading up to Sunday's Gala. There are also public workshops. 
About SheDotFestival
SheDot Festival is Toronto's Festival of Funny Women. On May 1-4, 2014 SheDot Festival launches its inaugural event in Toronto. As one of the biggest and best comedy centres in the world, Toronto is home to many of the world's funniest comedians. Funny women have not gotten the inclusion they most certainly deserve in the comedy community, until now. SheDot Festival features performer series like Stand Up, Sketch, Improv, Storytelling, Workshops, Panels and a fundraising event benefitting The Jo-Anna Downey Fund. Get social: facebook.com/shedotfestival & @SheDotFestival
For ticketing and more information, please visit: www.shedotfestival.com
-30-