Two weeks, five flights, two ferry rides and three islands. This past June one of our Clutch team members set out to conquer the Greek Islands and returned feeling exhilarated, sun-kissed and 50 per cent made of feta. There's nothing to dislike about the Greek Islands, mainly because there are so many of them, each with their own unique brand of magic. We set out from Athens to Santorini, then Ios and ended with Milos.
Santorini
Traditionally know as a lovers paradise where couples getting engaged is about as common as white buildings with blue rooftops, we were pleasantly surprised to find that this iconic Greek island had much more to offer.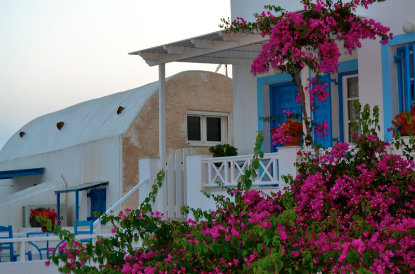 ATV's and mopeds are the best way to get around Santorini. And there are literally dozens of suppliers, so shop around! Because we were traveling with an uneven number, we negotiated a better deal for three quads carrying five people. From there we set out to see the island, leaving no stone unturned.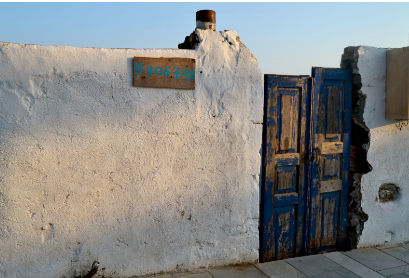 After getting the hang of driving we set off for the Black Sand Beach, Red Sand Beach and ended the day with sunset in Oia. What we loved most about this island was that each setting was completely different from the next.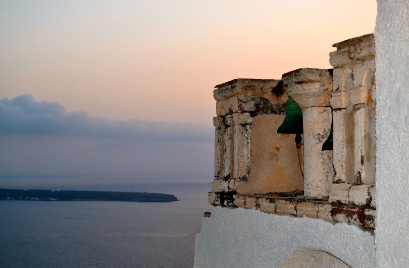 The black sand beaches next to spiraling mountainsides were breathtaking in the morning sun and although Oia at sunset was crowded with tourists, the drive back to our hotel at dusk along the northeast cliffside was a holiday highlight.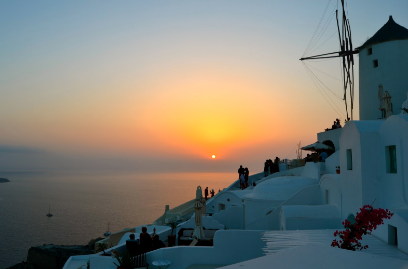 Ios
If Mount Nysa was the mythological island where Dionysus, the Greek God of wine and ritual madness lived, then Ios was the place he vacationed.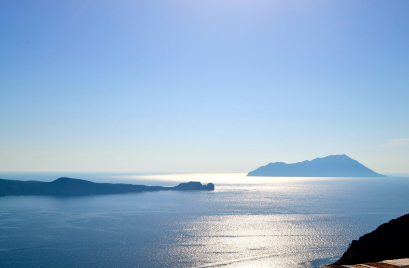 Not for the feint of heart, Ios has a reputation as Mykonos' hard-partying little brother and I can tell you it more than lived up to the hype. The place where 20-something's flock to escape adulthood, Ios is a never-ending cycle of beach-drink-eat-nightlife repeat.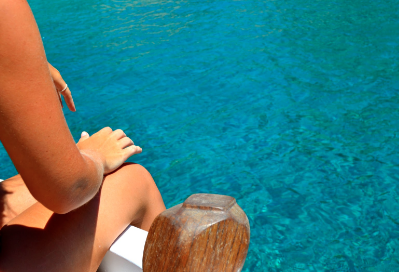 Going out at midnight and staying up until the sun rises the next morning is a normal occurrence, as is your presence at Mylopotas: the long stretch of beach on the south side of town. That being said if you find yourself in Ios for an extended amount of time there are plenty of secret spots to cliff jump, eat and take stunning Instagram-worthy water shots.
Milos
An explorer's paradise, Milos was by far the most authentically Greek Island we visited.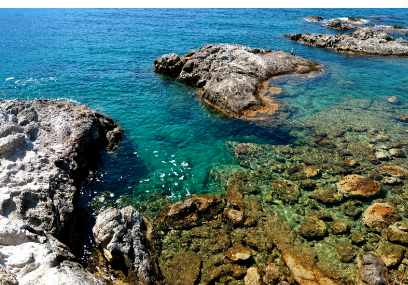 Its port is still scattered with shops selling evil eye key chains but just steps from their storefronts is a small bakery that sells traditional Greek desserts and makes one of the best iced coffee's around. In my mind, Milos will always be the place of a thousand beaches, some accessible by foot and car while others are only accessible via boat. It's a sleepy beach town with more than meets the eye. It's a large island so I suggest either renting a car or a moped.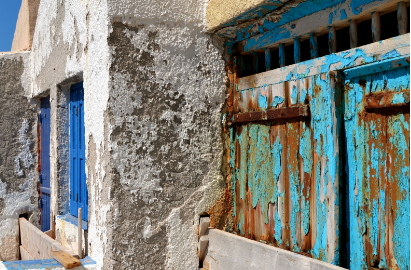 Our first excursion was to Sarakiniko, or as we called it, a trip to the moon. The giant, smooth white rocks are otherworldly and the swimming is prime as long as the winds aren't too strong. We then toured the villages of Mandrakia, the most charming fishing port you'll ever see, and Plaka; the capital of Milos perched on a large rock overlooking the gulf of Milos.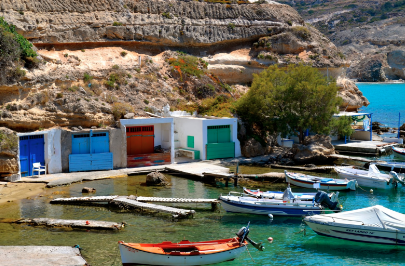 We hiked to the pinnacle of town where a church sits and were rewarded with 360 degree views of the island.
Having blocked off six full days for Milos we were happy to fill the hours with beach visits, slow afternoons sipping Mythos and chartering boats to explore the haunts of old pirate coves. A walk around the harbour will have you bombarded with different charter companies begging for your business but we opted for the 25 € option, which included a 4.5 hour boat trip to Kleftiko, swimming, drinks, aperitifs and a very charming captain. It was worth every penny as you can see by the clear blue waters we snorkeled in, pictures don't even do it justice.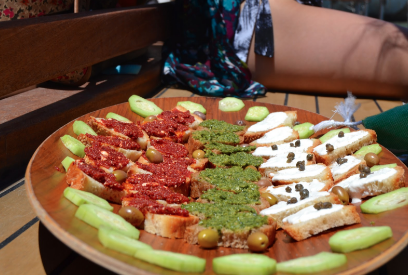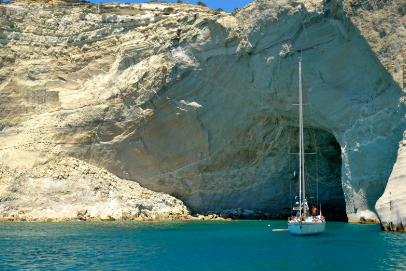 Two weeks came and went in the flash of an eye and all we can say is that while we could scratch Greece off our bucket list, we might just keep it unchecked as an excuse to go back some day.