#Powerwives is a monthly column where we feature women who inspire us. Marital status is completely irrelevant. The title is inspired by our founders November 2013 Toronto Life cover story. This month's #powerwife is Gail Harvey.
Gail Harvey is an award-winning photographer and film director who has studied under Norman Jewison, Wim Wenders and Arthur Penn, and was the third woman ever hired as a staff photographer at United Press International wire service. Her latest film, a documentary about Rickie Lee Jones entitled The Other Side of Desire is having its premiere at the Raindance Film Festival in London in October.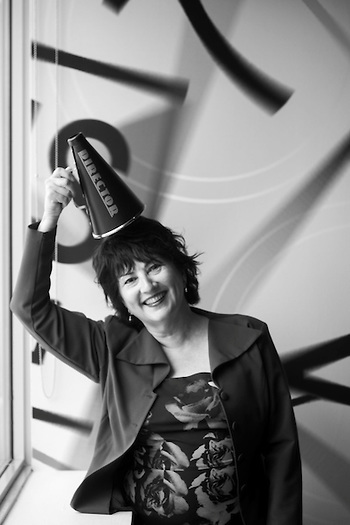 Name: Gail Harvey
Title: Director/Producer
Handles across social media: @gailharvey13 on Twitter
Who is in your tribe? (family members, friends, partners)
My tribe consists of my children, my grandson, my boyfriend, close female friends, and my parents.
What does a typical day look like for you?
It depends if I am shooting or not shooting. If I am shooting I am usually up at the crack of dawn and on set for 12 hours. Then I go home, prep for the next day, and go to sleep 🙂 If I am not shooting, I am usually pitching ideas, working on scripts, editing, hanging with my tribe:) doing usual stuff in Toronto. Exercise class, checking in on my aging parents, seeing movies, going out to dinner.
What's in your clutch?
Credit card and lipstick. Maybe some extra contact lenses.
Five things you can't live without?
The people I love, yoga pants, really rich face cream, comfortable shoes, sexy dresses.
How did you get your start?

I got my start by being determined, and working very hard, with many many people helping me along the way. It was always amazing to me how kind everyone was.
What sacrifices did you make?

After I had my two kids I think I sacrificed my career – I didn't take jobs out of town and didn't work as much as I could have. I knew that time was fleeting and before I knew it they would be grown up and I didn't want to miss it. When my son was 16 people started saying to me " your career has taken off." I used to answer "Yes it has. My son is 16 now:)"
Tell us about a time you were challenged and you learned a lesson…
I learned that when you know something is wrong (e.g. on a film set) and you fight for your belief – be collaborative, but never give up. The director always wears it.
How do you balance work and life? How do you feel about balance?

I feel balance is one of the most important things in life. I don't party, I exercise, I meditate, and eat well. I try to take some down time (sometimes that is almost impossible).
What inspires you?

The magic of life and the human condition. And people.
What are you excited about right now?

So excited about the film I am just finishing with the amazing artist/musician Rickie Lee Jones. It is screening in London at the Raindance Film Festival in October and it was just mentioned yesterday in Variety and Screen Daily.
How do you unwind? What do you do on the weekend?

I unwind by breathing. Counting my breath. On the weekend I try to recharge – see my boyfriend, go to a movie, get chores done.
Who is your hero?

I would have to say heroes – my parents who have been married for 63 years – and are now separated because she is in a nursing home and he has dementia. Their love for each other inspires me every day. He visits her, sits beside her bed, they talk and tell each other how much they love each other.
What are you reading?
Just read Linwood Barclay's book Never Saw it Coming. Amazing.
Most interesting people to follow on social media?
My children 🙂 and Juliette Lewis.
Personal Mantra: The only thing constant in life is change.
Advice for women trying to get to where you are:
You can't fail until you quit.
Know someone who would be perfect for this series? Email us at hello@clutchpr.com and tell us their story!