Has the heat turned you into an indoor cat? Me too. While hiding from this unbearable heat – I have composed a list of must-see films at your fingertips (Netflix, Shomi, iTunes) that are sure to keep you entertained until our weather remembers that we live in Canada and it's called the Great White North for a reason.
What's that? You're a summer person, you say? Loving the heat? Well then head outdoors and miss out on the cinematic excellence of the following picks. I don't want to say you'll be sorry but you will.
Documentary
Spinning Plates (Netflix)
A documentary featuring three remarkable restaurants and the inspiring people who make them what they are. It's not about what you cook but why.
Jiro Dreams of Sushi (Shomi)
A documentary on 85-year-old sushi master Jiro Ono, his renowned Tokyo restaurant, and his relationship with his son and eventual heir, Yoshikazu. (IMDB)
Being Canadian (iTunes)
What does it actually mean to be Canadian? This humorous documentary, featuring interviews with a who's-who of famous Canadians, hopes to find the answer. (IMDB)
Romance
The Longest Ride (iTunes)
After an automobile crash, the lives of a young couple intertwine with a much older man, as he reflects back on a past love. (IMDB)
Pretty Woman (Netflix)
A man in a legal but hurtful business needs an escort for some social events, and hires a beautiful prostitute he meets… only to fall in love. (IMDB)
The Reader (Shomi)
Post-WWII Germany: Nearly a decade after his affair with an older woman came to a mysterious end, law student Michael Berg re-encounters his former lover as she defends herself in a war-crime trial. (IMDB)
Comedy
Clueless (Netflix)
A rich high school student tries to boost a new pupil's popularity, but reckons without affairs of the heart getting in the way. (IMDB)
The Birdcage (Shomi)
A gay cabaret owner and his drag queen companion agree to put up a false straight front so that their son can introduce them to his fiancé's right-wing moralistic parents. (IMDB)
Mallrats (iTunes)
Both dumped by their girlfriends, two best friends seek refuge in the local mall. (IMDB)
Drama
Pan's Labyrinth (Shomi)
In the falangist Spain of 1944, the bookish young stepdaughter of a sadistic army officer escapes into an eerie but captivating fantasy world. (IMDB)
Nightcrawler (Netflix)
When Louis Bloom, a driven man desperate for work, muscles into the world of L.A. crime journalism, he blurs the line between observer and participant to become the star of his own story. Aiding him in his effort is Nina, a TV-news veteran. (IMDB)
Life of Pi (iTunes)
A young man who survives a disaster at sea is hurtled into an epic journey of adventure and discovery. While cast away, he forms an unexpected connection with another survivor: a fearsome Bengal tiger. (IMDB)
Action
Chappie (iTunes)
In the near future, crime is patrolled by a mechanized police force. When one police droid, Chappie, is stolen and given new programming, he becomes the first robot with the ability to think and feel for himself. (IMDB)
V for Vendetta (Netflix)
In a future British tyranny, a shadowy freedom fighter, known only by the alias of "V", plots to overthrow it with the help of a young woman. (IMDB)
Black Dynamite (Shomi)
Black Dynamite is the greatest African-American action star of the 1970s. When his only brother is killed by The Man it's up to him to find justice. (IMDB)
Thriller/Horror
Ex Machina (iTunes)
A young programmer is selected to participate in a ground-breaking experiment in artificial intelligence by evaluating the human qualities of a breath-taking female A.I. (IMDB)
The Strangers (Shomi)
A young couple staying in an isolated vacation home are terrorized by three unknown assailants. (IMDB)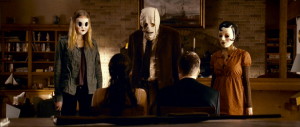 Savages (Netflix)
Pot growers Ben and Chon face off against the Mexican drug cartel who kidnapped their shared girlfriend. (IMDB)
What are your must-see flicks? Tweet at us @clutchpr and let us know! (We're overheating and need things to watch too)