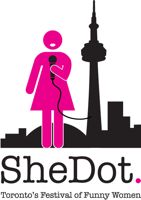 Media Accreditation for SheDot Festival now available
Media accreditation to cover SheDot and Gala is available online now
April 14, 2014, TORONTO –  SheDot Festival launches its inaugural festivalMay 1-4, 2014 as Canada's first and only festival showcasing all female comedians. The festival is stationed at Comedy Bar (945 Bloor St W). Media accreditation is now available on the SheDot website.
Accredited media receive a pass to cover a total of 61 female comedians and comedy troupes in one of the 12 series featured in their programming.
The final day of the festival, Sunday, May 4, also includes a fundraising gala benefitting The Jo-Anna Downey Fund. Taking place at The Opera House (735 Queen St E) brings the festival to a spectacular, hilarious end. Downey was recently diagnosed with Lou Gehrig's Disease and has been left without the ability to speak or perform. This fund helps support her.
Canadian Comedy Award winner Elvira Kurt, star of ABC's "Super Fun Night" Lauren Ash and Naomi Sniekus of CBC's Mr. D are just a few of the performers set to be at the Gala.
For information on media accreditation, please visit: bit.ly/shedotmedia 
For ticketing and more information, please visit: www.shedotfestival.com 
Get social: facebook.com/shedotfestival & @SheDotFestival
For press images, please click here. 
-30-