#Powerwives is a bi-monthly column where we feature women who inspire us. Marital status is completely irrelevant. The title is inspired by our founders November 2013 Toronto Life cover story. This week's #powerwife is Jen McNeely.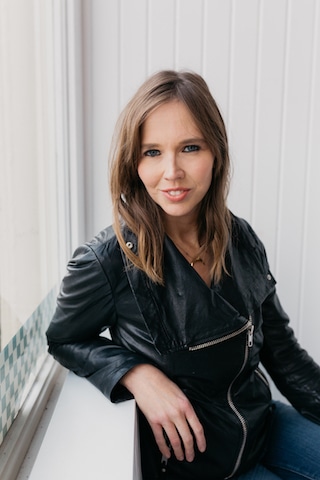 Jen McNeely is the founder and editor-in-chief of
Shedoesthecity.
Before launching Shedoesthecity, Jen worked in publicity and marketing at MuchMusic, Alliance Films and CBC Television. Since the fall of 2007, she has dedicated her life to creating a site for young Canadian women that promotes female entrepreneurship, thought-provoking culture and shares honest stories that, hopefully, inspires readers to take risks and enjoy a full and adventurous life. She has also written for
Toronto Life
,
FASHION Magazine,
NOW
and
The Globe and Mail.
—————————————————————–
Name: Jen McNeely
Title: Founder and editor-in-chief of Shedoesthecity.
Social media handles: @shedoesthecity for Insty and Twitter
Who is in your tribe? (family members, friends, partners)  I have several tribes: family, close friends, west end baby mamas, sober sisters & my SDTC girl gang.
What does a typical day look like for you? My work day looks entirely different to what it looked like 8 months ago. My routine used to include a morning of editorial, an afternoon of sponsorship, some coffee meetings in between, intermittent social media and an event in the evening. Now, it's an exciting whirl of flying broccoli, dozens of diaper changes, nursery rhymes, writing in five-minute intervals, negotiating sponsorships while breast feeding, puppetry, emails while pushing a stroller and so much more.
What's in your clutch? iPhone, lipstick, a scattering of receipts, ventolin inhaler, antihistamine pills, pen (that likely doesn't work), notepad & eyeliner. Maybe an apple or chocolate bar wrapper. My clutch would get a big fat "F" if unravelled on the pages of a fashion magazine. But how many of those are real? None!
Five things you can't live without? Morning walks. Dark coffee. Apples. iPhone. CBC Radio.
Who is your hero? The person who overcomes adversity, or lives through tragedy, and is able to regain their strength and find a way to give back to the world in a meaningful way is what I consider to be heroic. There are heroes everywhere, sitting beside you on the Dufferin bus.
What are you reading? I just finished Adult Onset by Ann-Marie Macdonald, now starting Women In Clothes by Sheila Heti, Heidi Julavits and Leanne Shapton. A copy of Vanity Fair always rests on my bedside table.
How did you get your start? I offered a Perrier to a pregnant lady at a busy film party. A week later she called to offer me an internship at Alliance Atlantis.
Tell us about a time you were challenged and you learned a lesson. In 2010, I called Kelly Cutrone a witch on Twitter. She got angry. The online debacle became a headline n Toronto Life and the National Post. Social media has been scary ever since then. Every time I tweet, I consider the potential fallout.
What inspires you? Children. Kindness. Forests. Paths. Playgrounds. Open roads. Busy subways.
What are you excited about right now? Going to Scotland to visit family at Christmas.
How do you unwind? I walk for miles daily. Even in the middle of winter.
Most interesting people to follow on social media? I follow Canadian media, local businesses, Shedoesthecity readers & my friends. Most of social media is cacophony of noise that I do not want in my life; but it also an essential tool for any business.
Personal mantra: Treat everyone equally, the way you'd like to be treated. It's the stuff of kindergarten and it's what really matters
Advice for women trying to get to where you are:  Work hard. Persevere.  Always pause to examine the big picture. Enjoy the journey. Take care of your health. Put life before work. Know that you'll never please everyone. Blaze your own trail.