April 24: Please join us for an advanced screening of Tapped Out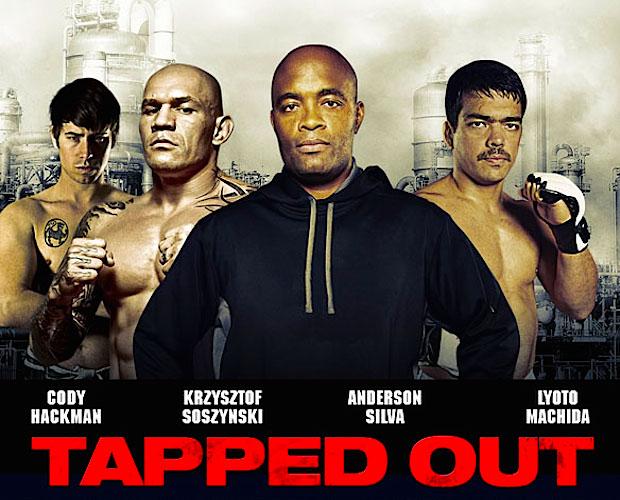 We'd like to have you come out to this free screening of Tapped Out. If you'd like to attend, please email Danielle Morgan at dmorgan@clutchpr.com
The movie stars Canadian Cody Hackman and UFC champs Anderson Silva & Lyota Machida.
Date: Thursday, April 24, 2014
Time:  Red carpet: 6:30 pm Screening: 7:30 pm
Location: Scotiabank Theatre (259 Richmond W)
In attendance: Anderson Silva (UFC champion, TBC), Lyota Machida (UFC champion, TBC), Cody Hackman (Tapped Out), Martin Kove (Karate Kid 1,2,3, Rambo), Krzysztof Soszynski (Here Comes the Boom)
Get social on Facebook & Twitter
Tapped Out follows the story of one-time martial arts prodigy Michael Shaw (Cody Hackman) who is sentenced to community service in a rundown karate school, where he finds his way back into the discipline. While at a local MMA fight he discovers the man who murdered his family 10 years ago and trains with a vengeance, motivated to go toe to toe with him in the ring.
Tapped Out stars Cody Hackman, UFC legend Anderson Silva, Michael Biehn (Terminator, Aliens), Martin Kove (Karate Kid 1,2,3  Rambo), UFC champion Lyoto Machida and Krzysztof Soszynski (Here Comes The Boom)
About Hackybox Pictures
Hackybox Pictures is a Canadian production company working hand in hand with top industry professionals in Hollywood. Its mandate is to foster strong relationships, allowing independent films to launch into the commercial market with success. To learn more, please visit www.hackyboxpictures.com
-30-