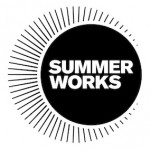 FOR IMMEDIATE RELEASE – June 5th, 2012
Beloved Fest Receives $90,000 Grant from Government
Toronto, ON — The SummerWorks Festival is thrilled to announce the reinstatement of funding through Heritage Canada's Canada Arts Presentation Fund.
On May 29th, 2012 SummerWorks received notice that The Honourable James Moore, P.C., M.P. approved a grant in the sum of $90,000. The grant has been allocated over a two-year period at $45,000 per year.
"I would like to take this opportunity to express my appreciation to all of the SummerWorks supporters. The outpouring of solidarity from our community helped send a clear message about the festival's value.  We could not have done this without you, and we are grateful that our Federal government took notice," says Artistic Producer, Michael Rubenfeld.
During the weeks leading up to the 2011 festival, supporters were asked to donate $21 to mark the 21st anniversary of SummerWorks Theatre Festival, and because of those donations the festival was able to generate $47,000 to aid the Toronto event.
To mark the launch of the 2012 festival, SummerWorks will be hosting a party, this coming Saturday June 9th, when the Music and Live Art series will be announced for the 2012 Festival. The event will be held at the Mercer Union Gallery, located at 1286 Bloor Street West and will be hosted by MadTV alumni Ron Pederson. Doors open at 8pm, performances start at 9:30 pm. The festival invites all to come celebrate with them.
Twitter: @Summerworks
Facebook: SummerWorks Performing Arts Festival
About SummerWorks Theatre Festival:
As the largest juried performing arts festival in Canada featuring predominantly new Canadian work, SummerWorks programs a festival that uniquely reflects Toronto and Canada's cultural zeitgeist. Since 1991, SummerWorks has continued to explore and respond to the needs and wants of audiences and the theatre community. The festival has grown to become one of the country's preeminent multi-disciplinary hubs featuring a Music Series, a mentorship program (SummerWorks Leadership Intensive Program –S.L.I.P.); and the National Series, showcasing works from across Canada. The festival adds new initiatives yearly, including performance-based programs such as the Live Art Series and the Performance Bar. The 2012 SummerWorks Festival runs August 9th to 19th in venues across Toronto.