Filipino street food may not be as popular (yet) as its Vietnamese and Thai neighbours but that's all about to change.
The Philippines, an archipelago of some 7,000 islands, has a wealth of delicious dishes you need to be trying. Blessed with an abundance of seafood, tropical fruits and creative cooks, there's a enough nosh to keep you nomming for days.
Rice is a big part of the Filipino diet and breakfast is no exception. Beef tapa consists of thinly sliced beef served with fried egg and garlic rice.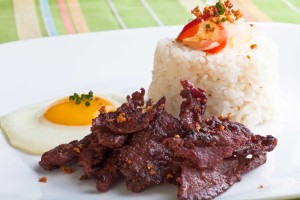 While it's breakfast fare, it's also a quick, satisfying meal you can eat anytime. We snagged this recipe from Diona Joyce, head chef at Kanto for you so you can put your cooking skills to the test at home.
Beef tapa:
1 kg rib eye, sliced thin
1/2 cup soya sauce
1 tbsp vinegar
3 Calamansi fruit, juiced
3 cloves garlic, crushed
1 tbsp brown sugar
1 tbsp oil for frying
Mix everything and let marinate for at least 2 hours. Heat up oil and add beef. Stir and let cook for 5 mins and serve.
Serve with garlic fried rice and egg.
If that's got your mouth watering for more, join us Sunday August 9th at Yonge and Dundas Sq for KULTURA'S Filipino Street Eats competition where can tuck into tempting dishes from six up-and-coming Filipino chefs.