[Image from El Coco Loco Resort]
Ten years ago the term ecotourism would have been met with a quizzical expression and incessant questions about the who, what, where, when and why. But over the last decade, ecotourism has emerged as one of the largest, if not most prominent trend in travel.
The term is generally defined as "responsible travel to natural areas that conserves the environment and improves the welfare of local people" (TIES). As with most pure intentioned of ideas, the term is sometimes used inaccurately by tour operators to appeal to the masses, promoting less than eco-friendly trips to zipline in the rainforest or interact with wildlife in areas of high traffic and environmental encroachment.
Erica Martin, a spokesperson for the International Federation for Animal Welfare explains that "a genuine ecotourism trip should have a focus on conservation of biodiversity and cultural diversity where the impact of the trip is minimized." She goes onto explain in a 2007 Toronto Star article that "an educational focus is also included – sometimes with the opportunity to take direct action that has a positive conservation impact."
Any amount of research suggests that ecotourism is term inherently at odds with itself. A balancing act of sorts, ecotourism seeks to make environmentally friendly travel available to tourists while helping to build communities and minimize the impact that increased traffic to a destination inevitably produces.
One such place who, by all accounts achieves this sought after balance is El Coco Loco Resort in Nicaragua. Located off the well-documented "gringo trail" the resort is nestled on the Northwest coast near El Manzano Uno El Viejo. In early 2010, the resort opened to utilize the benefits of tourism to promote sustainable development within the community. Surfing, yoga, great food and a beachfront location check all of the boxes on the tourism side of things while their involvement in community, commitment to a sustainable number of guests and general eco-conscious philosophy keep things balanced from an ecological standpoint.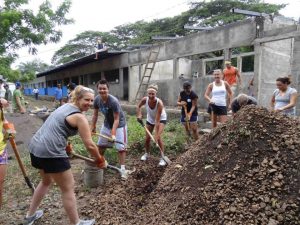 [Image from El Coco Loco Resort]
Employing locally, El Coco Loco also provides scholarship opportunities to their employees along with fair wage and benefits. They generally book groups at one week intervals and encourage visitors to take time in between surf lessons and yoga poses to help with community development projects and volunteer efforts via Waves of Hope, the NGO they founded in 2009, whose largest project to date is the construction of a local High School that serves over 200 students daily.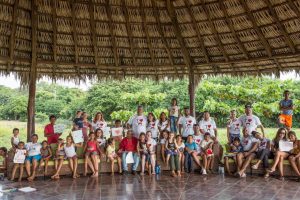 [Image from El Coco Loco Resort]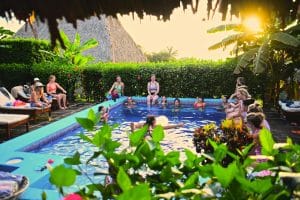 [Image from El Coco Loco Resort]
Living with less while doing more is a staple of ecotourism that destinations like El Coco Loco live by. A simple statement with a simple premise, only time will tell if others will catch on to the true meaning of what it means to participate in ecotourism.