Arts imitates life as Carlos Celdran's Livin' La Vida Imelda opens the 10th annual KULTURA Filipino Arts Festival
"Celdran's charm and showmanship turn [the performance] into genuine theatre"
– New York Times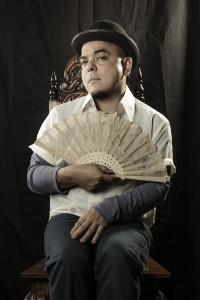 June 25, 2015 TORONTO – Carlos Celdran, notable Filipino performance artist will open the 10th annual KULTURA Filipino Arts Festival on August 5 at OCAD Auditorium.
Fresh from a sold out run off-Broadway (Ma-Yi Theatre, NYC) in Fall 2014, Celdran's performance Livin' La Vida Imelda takes a metaphorical scalpel to the beloved/hated, infamous first lady Imelda Marcos, to reveal how she has influenced Philippine history and Filipino identity for better or for worse.
"We're thrilled to have Carlos return to open the 10th annual KULTURA festival," commented Nicole Cajucom, Kapisanan's new executive and artistic director.  "This irreverent, thought provoking, and wildly entertaining work casts the mythology of Imelda into an entirely new light, particularly for a younger generation who know little about her impact in our history."
KULTURA Filipino Arts Festival, presented by the Kapisanan Philippine Centre for Arts and Culture, has a vibrant schedule of events programmed from August 5-9, 2015. Contemporary and traditional Filipino culture will be showcased through performance art, visual art, dance, music, poetry, craft and cuisine.
Participants of a five-month arts-based, cultural immersion program for Filipino youth will present their final exhibit featuring the female participants of CLUTCH Volume 7 alongside the male participants of NAV Volume 2. Together, they will present stories related to Filipino-Canadian identity through art created since March 2015.
Through workshops and one-on-one mentorships, these young adults have been encouraged to explore identity, culture and history, intertwined with hands-on, technical and conceptual training in the arts. The culminating result is a dynamic portfolio of multi-disciplinary work that continues a six-year exhibition series.
Carlos Celdran's performance run is from August 5 – 8 from 6 – 10PM. Tickets for the opening night fundraiser on August 5 are $60, additional performances are $30.
The opening reception of the CLUTCH and NAV exhibition is on August 6, from 7PM at Kapisanan Headquarters, 167 Augusta Avenue. Admission is free.
-30-
About KULTURA:
Energized by cultural pride and a progressive outlook on the Filipino-Canadian experience, KULTURA Filipino Arts Festival has captivated the broader Toronto public for a decade with its innovative programming of live performances, traditional and modern cuisine, curated interactive art installations and a bustling marketplace.