This week on #MondayMotivation, we take you through 7 simple steps to ensure you are your most productive this week.
1. Power poses
Power poses are an important part of any day. Power poses work to change your self-perception, body language and mood. Spend 5 minutes in the morning in a open and powerful pose to get your head in the game for the week ahead. Amy Cuddy, a professor at Harvard Business School and social psychologist, gave a TED Talk about power poses that garnered 27 million views making it the second most viewed TED Talk on their site. Check it out here
2. Tell yourself you will accomplish things today
If you start your week off with goals in mind, you are more likely to achieve those goals and work towards them. The power of positive thinking is a real thing.
3. Make a task list and give yourself deadlines
Giving yourself a set list of tasks ensures you stay on course for the day. If you have 5 things to get done and 5 hours to do it then you should complete one task an hour, this will motivate you to get each thing done in a timely fashion. Giving yourself personal deadlines will push you to complete things quickly.
4. Split your tasks into smaller tasks with rewards (yes you are a dog)
Split your day into small easy to complete tasks. Give each of these tasks a reward. These rewards do not have to be large. Think about how you train your dog (No, you are not a dog but in this case just go with it) You ask it to sit and when it sits you reward it. If you give yourself small tasks and reward yourself at the end of it, you are more likely to power through the next one towards your next reward.
5. Remember your why
Always think about why you want to be productive. Do you want to complete the task for a feeling of accomplishment? Or are you working on a big project at work? It could even be to get that pay cheque at the end. No matter what your goal is, figure it out and how you can work towards it. Check out Simon Sinek's TED Talk about knowing your why here.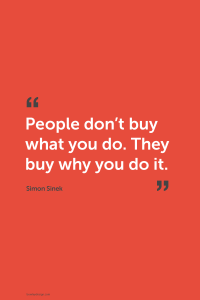 6. There's no such thing as failure, only feedback
Reframe failures as learning opportunities. When you fail, what you actually get is a whole load of really useful data. Now you have information about how you can achieve your goal the next time around. Always learn from your mistakes to improve on your skill set.
7. Stay positive
Positive thoughts push for a positive day. Negative thinking will only drag you down. Keep your thoughts positive. Think "I can do this" not "I really don't want to do this but I guess I will." Thinking positively will go a long way in helping you stay productive. If you think you can do it, you can.
We hope these tips have helped motivate you to crush your week. Have we missed any key tips? Tweet at us @clutchpr.