So you've been tasked with organizing a night of debauchery for a group of friends. We recently did this and being the PR pros that we are decided to hit it out of the park and share some trade secrets with you.
1) Timing is everything.
Like any event planning you'll need to start planning as early as possible. Work backwards from the wedding date and help choose a date by creating a google form (https://www.google.ca/forms/about/) and surveying the ladies or gents to determine what dates, budget and ideas appeal to them.
2) Go sailing, jumping, shooting, axe throwing, paint balling, or indoor snowboarding
Want it to be memorable? Choose a day activity that is not typical. We decided sailing would be a great way to see Toronto from a new perspective.
3) Dine and drink in style
Choose a killer hotel and book their rooms to prep in. Lounge on their patio to enjoy cocktails and get the royal treatment. We suggest The Drake Hotel. Where else can you indulge in bottle service that is cranked up a notch? They recently introduced the #DrakeDrinkWell program and it's the perfect offering for groups and bachelorette parties. Bar snacks, a well crafted cocktail or bottle of champagne for all = bliss. Then stay the night and have brunch the next day. We enjoyed bubbly and the Moscow Mule a delicious vodka cocktail with ginger beer in it.
4) Hire a professional photographer to shoot the event
Hiring a pro ensures you get photos like this of the bride-to-be:
Instead of photos like this: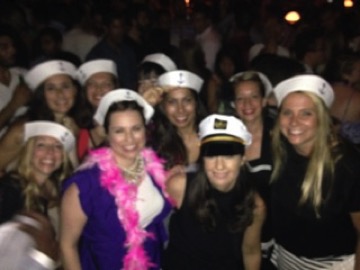 We were lucky enough to score Dahlia Katz as our photographer and have stunning photos from the event that will last a lifetime.
5) It's all in the details
Drivers, make-up artists, a theme and costumes for everyone all help to tie everything together nicely. We hired a limo for the evening that could pick up and drop off all guests at their whim, had a friend to do the bride's make-up and gave all the ladies a sailors hats so they could be bride's mates. Choose a fun theme and think through the details.
What party planning ideas have you seen that you love? Tweet us what we've missed.