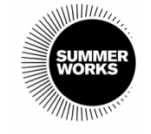 SummerWorks Performance Festival 2014 Announces Award Winners
SummerWorks celebrates award winners at its Closing Night Party
August 17, 2013, TORONTO – Canada's 23rd annual 

SummerWorks Performance Festival

 wrapped up another successful year with an awards ceremony recognizing outstanding artistic achievements at the Closing Night Party, held at 

The Theatre Centre

 (1115 Queen Street West). This year the festival celebrates strong audience presence and increased support to artists with a total of 572 artists who put on 366 performances of 61 productions.
"We're incredibly pleased and proud of the level of diverse, complex work that was offered at this year's SummerWorks. We worked with artists to help enable some of the most fascinating, experimental and genre-defying programming that this remarkable city has to offer. We work to create memorable experiences and deepen conversations and I feel we've been successful in doing that this year," says Michael Rubenfeld, SummerWorks' Artistic Producer.  
The success of this years festival is followed up by the announcement of a new international festival for performance and ideas called Progress. This international multi-arts festival seeks to create a new global stage for performance in Toronto. It launches February 4-15, 2015. The full lineup announcement will be made November 5, 2014.
This year's SummerWorks offered an array of experiences, with highlights like the continued innovation of the Music Series with Weaves Through Time and One Night, Two Brendans featuring Brendan Canning (Broken Social Scene) and Brendan Healy (Buddies in Bad Times); one-of-a-kind experiences in the Live Art Series; and the return of The Bicycles as SummerWorks' Artists-in-Residence in a collaboration with Maggie MacDonald and Amy Seigel for Young Drones: A Graphic Novel Rock Opera.
 
All awards are adjudicated by a jury comprised of Ross Manson, Kat Sandler and Anand Rajaram with the exception of the NOW Audience Choice Award, which is determined by ballot. The award winners are as follows:
 
SummerWorks Prize for Production
This prize is a free trip back to the Festival next year. All companies presenting new work are eligible.
Winner: He Left Quietly
 
The Contra Guys Award for New Performance Text
Generously supported by two SummerWorks founders, Benj Gallander and Ben Stadelmann,the Contra Guys Award for best new performance text is a $1500 cash award presented to a performance-maker for an outstanding new work (script or performance text).
Winner: The Water Thief
Honourable mention: Half Girl Half Face
 
National Theatre School Award for Set or Costume Design
This award, sponsored by the National Theatre School, offers a $750 cash prize to a designer for an outstanding set or costume design.
 
Winner: Unintentionally Depressing Children's Tales
Buddies in Bad Times Vanguard Award for Risk and Innovation
Sponsored by Buddies in Bad Times Theatre, this $500 cash prize is awarded to an individual or company in recognition of an artistic choice or choices exemplifying innovation and/or artistic risk.
 
Winner: Jacqueries, Part 1
Honourable mention: Fuck You, You Fucking Perv
Canadian Stage Award for Direction
$500 cash prize awarded for an outstanding piece of direction at the Festival.
Winner: Mercedes Batiz-Benet for El Jinete – A Mariachi Opera
The Spotlight Award for Performance
Awarded to a featured performer in a SummerWorks show. The winner receives a VIP pass to the Festival next year.
 
Winner: The Ensemble of Tragedy, a Tragedy: Don Allison, Benjamin Clost, Miranda Edwards, Cyrus Lane and Christopher Stanton
Honourable mention: Mazin Elsadig for Complex
Honourable mention: Jeff Ho for Unknown Soldier
The Theatre Centre Emerging Artist Award
$500 cash prize awarded to an artist early in their career who made an artistic impression during the festival.
 
Winner: Shaista Latif for Graceful Rebellions and Cole Lewis for Antigonick
Honourable mention: Rebecca Applebaum for Complex
The NOW Magazine Audience Choice Award
Audience members voted for their favourite SummerWorks production by placing their ticket stub in the NOW Audience Choice box before leaving the theatre. The winner receives $1000 towards free advertisement with NOW Magazine. All shows were eligible for this prize.
 
Winner: Trace
Special thanks to all the SummerWorks Performance Festival sponsors for their dedication to the festival:
 
Department of Canadian Heritage
Canada Council
Ontario Arts Council
Toronto Arts Council
Metcalf Foundation
TD
Mill Street Brewery
Dual Audio Services
NOW Magazine
The Incredible Printing Group of Companies
SEARS Ontario Drama Festival
Insomnia Restaurant and Lounge
National Arts Centre
SOCAN Foundation
Artscape
PwC
Zipcar