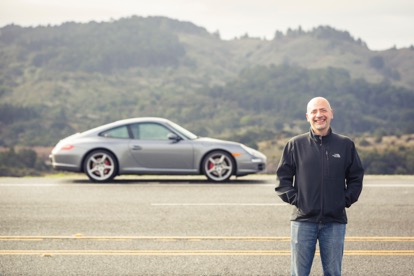 Turo CEO Andre Haddad. Photo credit: Turo
TORONTO April 19, 2016 – Pioneering car rental marketplace Turo announced today it will launch in Canada, marking its first expansion outside of US. Empowering Canadians to turn their idle cars into earnings engines and inject more personality and value into the car rental experience, Turo is the first peer-to-peer car rental company in Canada.
Putting Canada's 23 million vehicles to better use, Turo allows car owners to offset the cost of car ownership by renting their idle vehicles to pre-approved travellers, while helping travellers find the perfect vehicle for their next adventure. Cars rented on Turo typically cost 30 per cent less than traditional car rentals. Members of the Turo community pay no membership fees, and each trip is backed by Turo's leading trust and safety protections, including $2 million in auto liability insurance and 24-hour roadside assistance.
"This is a significant milestone in our history; our first international launch and the opportunity to make car ownership in Canada more accessible and inject value, convenience and personality into travel," said Turo CEO, Andre Haddad. "The average compact car costs $9,500 per year to maintain. For the first time, Canadians can earn money from their cars and help fuel travellers' adventures, all while being part of a vibrant community. It's a significant step towards realizing our mission of putting the world's one billion cars to better use."
Customers of Intact Financial Corporation's two largest brands, Intact Insurance and belairdirect, are eligible to list their vehicles on the Turo platform. Both insurance providers have modified their guidelines to allow customers to join the Turo community.
"We're excited to offer Intact Insurance and belairdirect customers Canada's first peer-to-peer car rental insurance option. Turo's rental platform will offer consumers greater choice," said Karim Hirji, Senior Vice-President, International & Ventures, Intact Financial Corporation. "As a customer driven organization, Intact remains committed to designing unique insurance products to meet the evolving needs of Canadians."
Turo operates in Alberta, Ontario and Quebec and will expand its marketplace nationally. At launch, Intact Insurance and belairdirect personal lines automobile policyholders will be eligible to list their cars on this new peer-to peer car rental marketplace. Customers must speak to their broker or agent before participating. Turo is working to prompt other Canadian insurers to allow their policyholders to enjoy the benefits of renting out their cars on the marketplace as well.
Turo, founded in 2009 and headquartered in San Francisco, has grown to operate in over 2,500 cities and 300 airports in North America and has safely facilitated over 1 million rental days to date. The average active US member makes USD $600 per month renting out a car in the marketplace.
https://www.facebook.com/Turo/
-30-
About Turo
Turo is a car rental marketplace where local car owners provide travellers with the perfect vehicle for their next adventure. Across the country or across town, travellers choose from a unique selection of nearby cars, while car owners earn extra money and help fuel the adventures of travellers from around the world. A pioneer of the sharing economy and travel industry, Turo is a safe, supportive community where the car you rent is part of a story, not a fleet. Whether it's an F-150 truck to help out on moving day, a Tesla for a luxurious weekend away or a classic VW bus for a picture-perfect road trip, travellers rent the car and own the adventure. Discover Turo at turo.com.